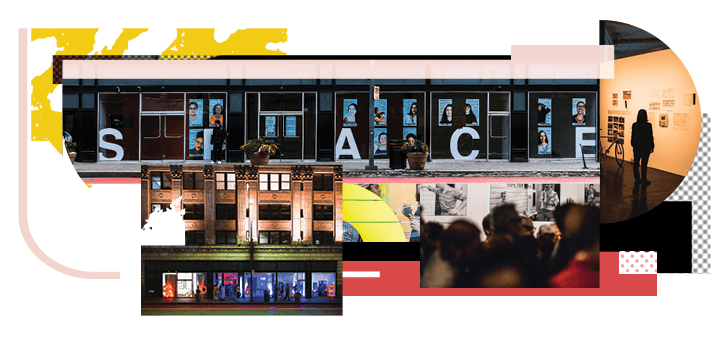 SPACE Gallery
SPACE is home to exhibitions by regional artists focused on conversations in the contemporary art field and the experience of creating work in the 21st century. The popular street-level gallery is located on bustling Liberty Avenue, steps away from other galleries, restaurants, and Cultural District attractions. SPACE is also home to the annual Juried Visual Art Exhibition — a featured event of the Dollar Bank Three Rivers Art Festival.
Current Exhibition
No events are currently available. Please check back later
Previous Exhibitions
SPACE Gallery has presented hundreds of artists over its history. Find more about previous exhibitions in the gallery archive.
VIEW ARCHIVE ➤

Gallery Hours
Wednesday - Sunday: 11 am - 6 pm | closed 12-12:30 pm
Get Involved
Are you interested in exhibiting at a Cultural District gallery, renting one of our spaces, volunteering with us, or have a question? Get in touch at the link below.
Support the Arts
You can support the art you love by purchasing work from Cultural Trust galleries, and by directly supporting the Pittsburgh Cultural Trust. Learn more at the link below.
Directions and Parking
SPACE Gallery is located at 812 Liberty Ave, Pittsburgh, PA 15222. The entrance to the gallery can be found directly off of the Liberty Avenue sidewalk. Click here to learn more about visiting visual arts attractions in the Cultural District.
With ParkPGH, a project of The Pittsburgh Cultural Trust, you can find real-time parking information for garages in Downtown Pittsburgh. Click here for garage parking close to Wood Street Galleries.

A project of The Pittsburgh Cultural Trust