Volunteering
Great Performances. Great People. Give the gift of time!
Our volunteers play an important role at The Pittsburgh Cultural Trust by providing support and leadership for our programs, projects and activities. Comprised of people of all ages and backgrounds, our corps of volunteers works to strengthen community awareness and public appreciation for the Trust, contribute to its financial strength, and provide vital support services to its staff.
How to Apply
Thank you for your interest in supporting the Pittsburgh Cultural Trust. To complete your Volunteer Application Form online, you will be directed to a new site powered by Better Impact, where you can create or log into an existing account.
Volunteer FAQs
What is the commitment year-round?
We ask that every volunteer do at least 75 hours in a calendar year to remain an active volunteer in the program.
What is the time commitment for a shift?
Each event is very different, but a typical shift is between 4-6 hours. You will see the start and end times very clearly in the online portal before signing up for a shift.
What opportunities are included if I sign up to volunteer?
We have many opportunities year-round to volunteer, both regular and seasonal.
Theater opportunities include events at the Benedum Theater, Byham Theater, Greer Cabaret Theater, or Liberty Magic.
We do NOT offer opportunities at Heinz Hall or the O'Reilly Theater through this program.
Season opportunities include the Three Rivers Arts Festival, First Night Festival, Gallery Crawls, and other miscellaneous events.
What are the uniform requirements?
In general, we ask that you provide a white button-down long sleeve dress shirt, black dress pants, fully black shoes, black socks, and a black bowtie. The Trust will provide you with a black vest.
Outdoor events are casual attire, or an event T-shirt may be provided.
In-depth uniform requirements will be covered at the orientation.
How does scheduling work?
Scheduling is flexible! You pick and choose your own shifts. All our scheduling is done through an online portal that is very easy to use.
Because there are so many different events that you can sign up for, people from all walks of life (students, working, retired, etc.) are able to make it work due to the flexible scheduling.
How often are orientations?
Once every quarter. Each one is on a Saturday from 9am-5pm at the Benedum or the Byham Theater.
Can I come to part of an orientation?
You will have to be there for the entirety of the orientation to be eligible for the program. The reason for the long orientation is that we are preparing you for so many volunteering opportunities in our Cultural District.
What happens after orientation?
If you've got your uniform components ready, you are welcome to start signing up to volunteer! Your first 30 days will be a "shadowing" period, where you will be paired up with another volunteer to learn the ropes at any shift you attend.
What happens after I apply?
You will get an email asking to set up a 15 min phone call.
What will I be doing as a volunteer?
The volunteer function varies depending on the show and whether it is an indoors or outdoors event, but our volunteers handle various guest-facing tasks such as scanning tickets, greeting patrons, taking patrons to their seat, coat check room support, and donor lounge support.
How old do I have to be to volunteer?
Minimum age requirement is 16 years of age. There is no maximum age limit, although we ask that you be mindful of the physical requirements of volunteering.
What about parking?
We provide parking validation in the Theater Square Parking garage for any volunteering shift or training that you participate in.
Are there any physical requirements?
Volunteers must be able to stand for extended periods of time, especially during the portions of the shift when guests enter, exit, and otherwise navigate the venue (intermission, etc.)
Are there short-term volunteering commitments available?
Currently, we do not have any short-term or "day of service" volunteering opportunities available.
I know some people who want to join, what should they do?
Have them apply at trustarts.org/volunteer. Everyone must individually do an application, phone call, and attend an orientation to be eligible to volunteer.
They can email volunteer@trustarts.org if they have any questions!
Will I get to watch the show?
Generally, yes, you will get to watch parts of any show you volunteer for. However, this is not a way to get a free ticket to any show. We ask all our volunteers to follow certain policies and procedures, and to remain committed to providing a magical guest experience first and foremost.
Seating is dependent on how well the show is sold and attended.
What kind of environment is the volunteer experience?
It is a fun, fast-paced, team-driven environment where you interact with guests and make sure they are having magical experiences!
Volunteer Mission Statement
Our priority is to help others enjoy the beautiful gift of art by creating a warm atmosphere and unforgettable experiences that excite and attract diverse audiences again and again to our venues and festivals. The Cultural Trust's community of volunteers supports and cultivates an environment where all feel welcome to enjoy performing, visual, and public art.
Volunteer Vision Statement
We will provide a professional, first in-class guest experience for every visitor. Our volunteers and the outstanding service they provide to the community will be one of the many reasons people continue to frequent Pittsburgh's Cultural District.
Through a more inclusive group of volunteers, we will strive to connect with all persons by creating a place where both volunteers and guests feel comfortable, accepted, and valued. We aspire to provide all with a fulfilling and gratifying experience in the arts.
Our volunteers will promote a strong sense of pride, community awareness, and public appreciation for the Cultural Trust by creating and enhancing relationships both within the Cultural District and beyond.
Volunteer Values
We believe...
the arts should be accessible and enjoyable for all.
volunteers are an important reflection of diversity within our Cultural Trust family, where all are welcome.
in excellence and the commitment to high standards for superior guest service.
in respect, empathy, dignity, and trust in our interactions with all.
that through an appreciation of the arts and culture, people have the power to enrich their lives and improve the quality of life for others within the community.
Opportunities
Volunteers may participate in a broad spectrum of programs and activities depending on their interests and flexible options accommodate each volunteer's personal schedule. Daytime or evening, weekday, or weekend. There's often an activity to fit any schedule.
Volunteers may participate in activities in the following areas:
Performance Support
Festival Support
Children's Activities Support
Gallery Attendant Program
Docent Program
Programmatic-specific Support, including assisting with various departmental needs
Giving is Rewarding. Becoming a volunteer makes you a part of theTrust family. As you share your talents and interests with fellow volunteers, you also learn more about the inner workings of the theater, its programs, and its role in the community.
Some of the other benefits include tickets to performances and an invitation to volunteer recognition celebrations.
Latest Good News
Check out some recent highlights from the Volunteer Services newsletter — Good News — which shares highlights and stories from throughout the Trust's volunteer family.
October 31, 2023 – Christine Castner
I feel very much a part of a team and my role as a volunteer is that of support. My eyes have been opened to the depth of the Cultural Trust and I am amazed at this remarkable organization within our city. I am proud to be able to be connected to and support the Trust. I am being rewarded with remarkable benefits of experiences with every shift I am able to take. I truly love this volunteer experience.
October 23, 2023 – Beyond The Stage Launch & New Volunteers – Vinay Thomas
I am so thrilled to share that we have launched year 2 of our Beyond The Stage student volunteer program with just over 30 new students from CAPA!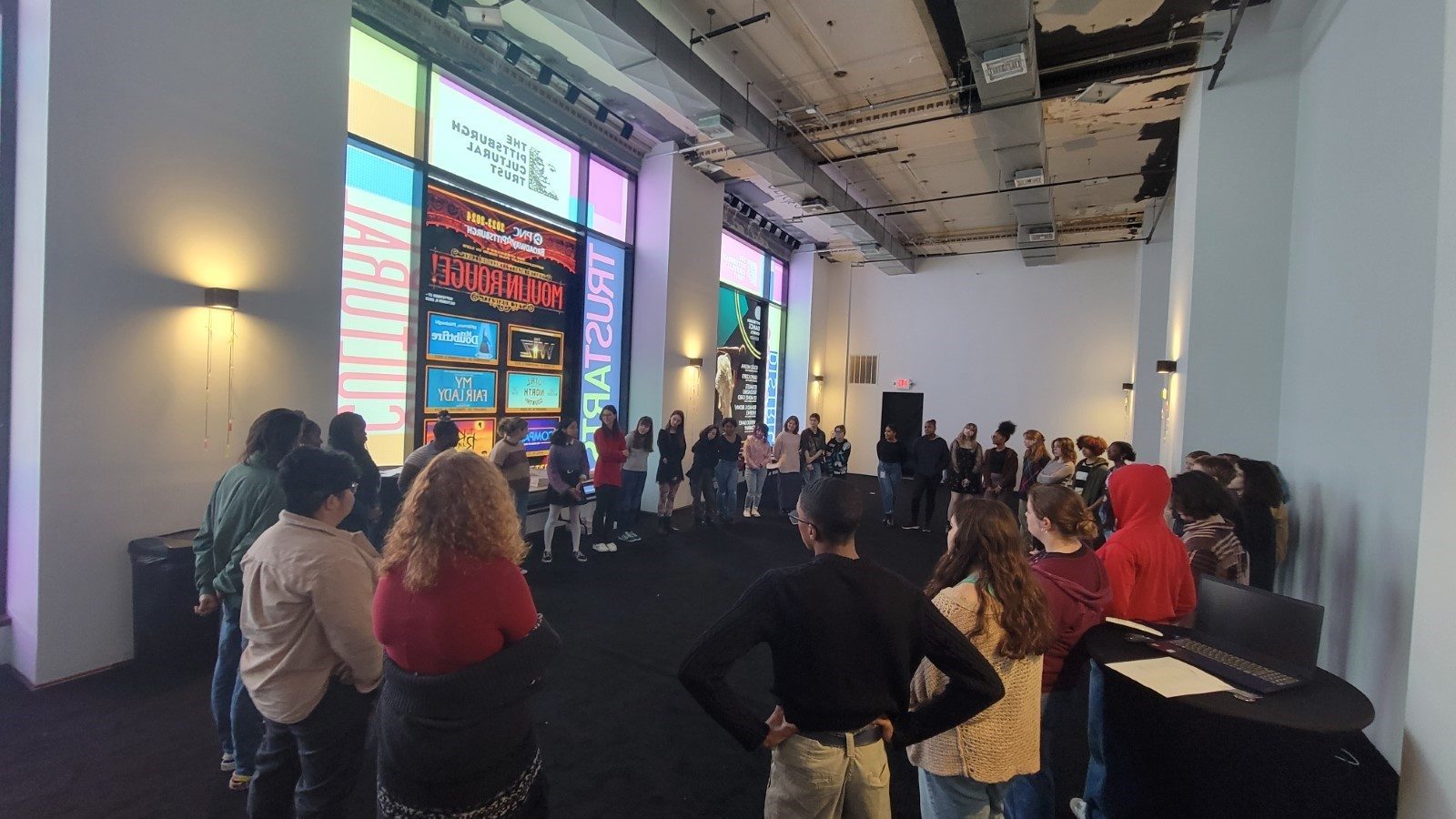 In addition to the students, we also welcomed in many new volunteers this weekend at the latest new volunteer orientation!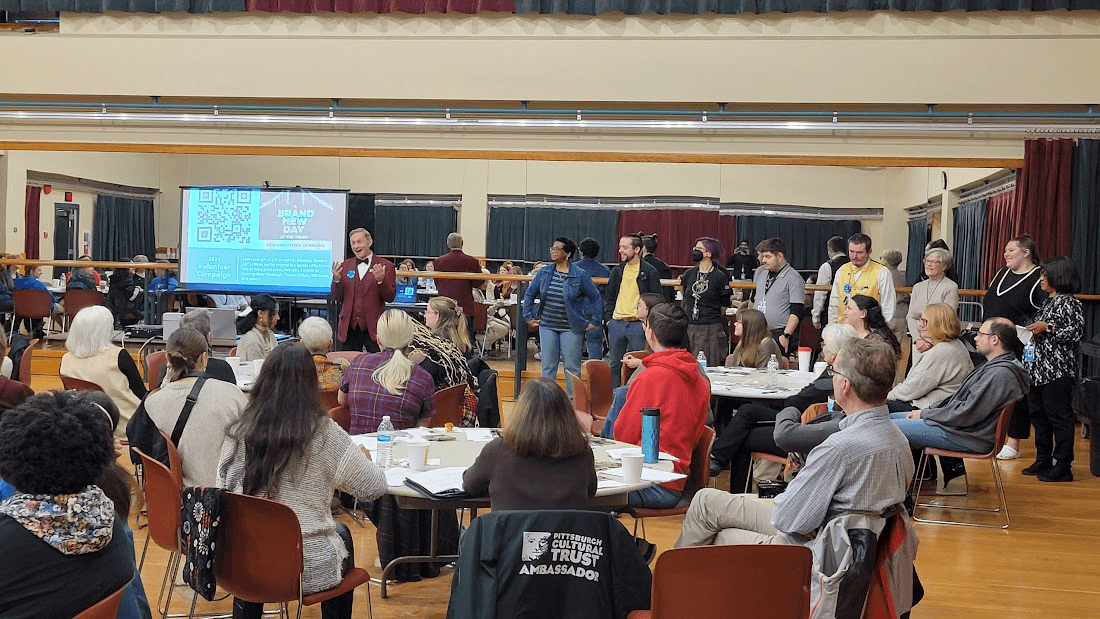 October 6, 2023 – Sugar Skull Student Matinee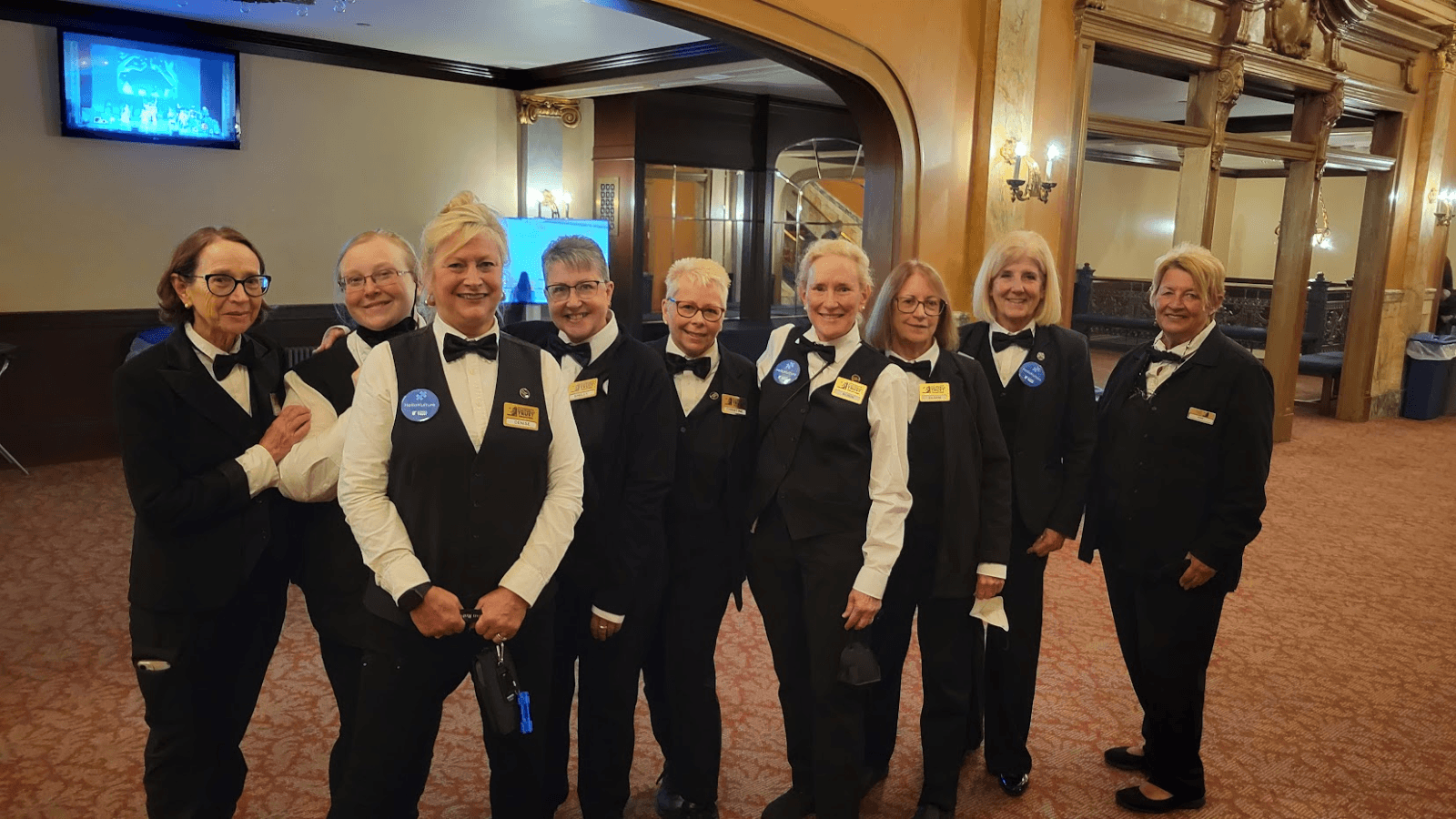 October 1, 2023 – Artist Car Workshop – Barb M.
It was a great day for the Artist Car Workshop. Cultural Trust Volunteers, Barb Martinelli and Shelly Hartge pitched in to help artist, Cheryl Capezzuti, and her crew prepare cars for the downtown Pittsburgh New Years' Eve celebration.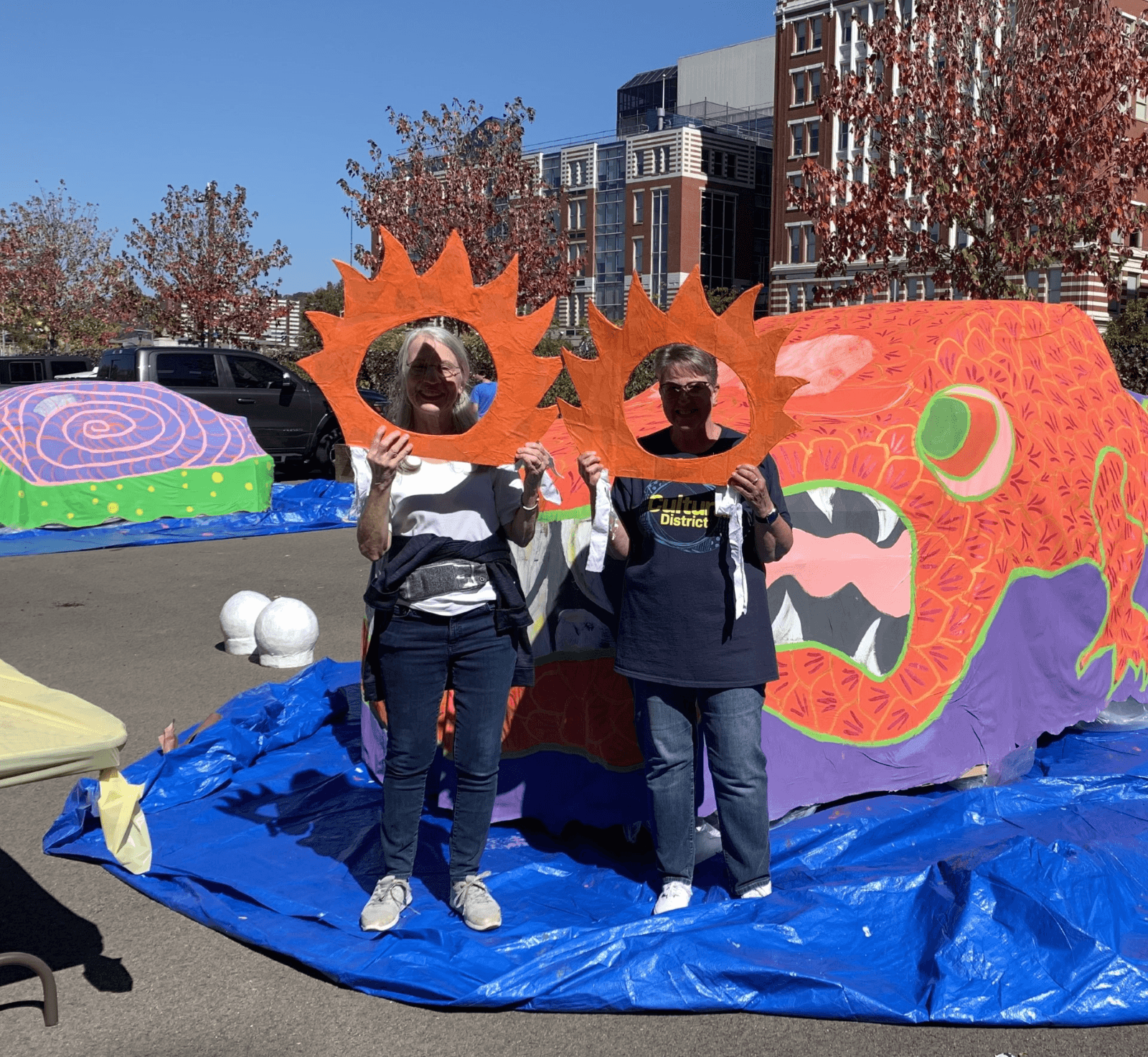 September 27, 2023 – Moulin Rouge – Roseann B.
Being emeritus I'm not able to usher as often as I'd like, but when I do it's always great! Especially the opening night of Moulin Rouge. Not only was the show so good, but the people I encountered really made my evening! There was the couple who had just moved from Wisconsin and was so thrilled to be there, the gentlemen who had never been to the Benedum and was in awe of our beautiful theater and, of course, the people I worked with. Our floor manager, Erica in the mezzanine, was so nice and fun!. I enjoyed ushering and talking with Andrea, who had some very interesting stories, and of course my BFF, Louise who I met as a result of ushering. And it's always nice when I get to see ladies and gentlemen who I've met over the years. You know who you are. When people say we do this to see the shows they may be right but it's so much more than that!
September 25, 2023 – Note from Denise M
Everyone has been beyond welcoming and kind. I'm loving my experiences. Thank you.
September 24, 2023 – Bluey's Big Play – Deb B.
My Grandson, Clark and I attended the Saturday morning Bluey performance! He had the time of his life meeting my fellow Volunteers/Floor & House Managers, and particularly getting a big soft pretzel and Bluey light toy! The theater was full of Bluey fans!
September 22, 2023 – Beyond The Stage Year 2 Launch – Vinay T.
We are continuing our Beyond the Stage program and have added more student volunteers from Pittsburgh CAPA. The program begins soon and you will see these students in the theaters following the next orientation on October 21!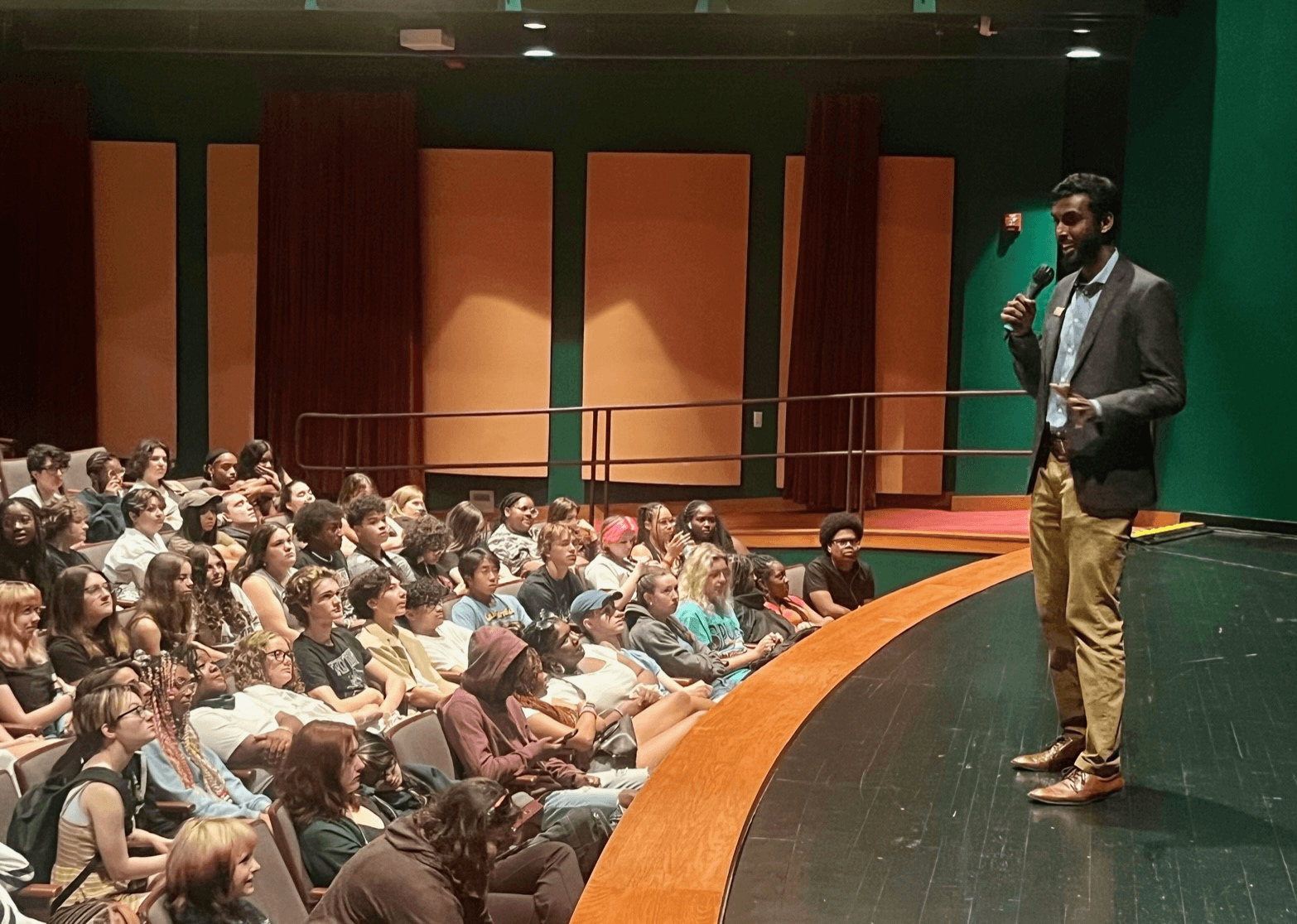 September 15, 2023 – Tick, Tick..Boom! – Carol W.
Shout out to Kathy who was one of the first five ushers to work the new Greer and help management there iron out kinks before tickets go live.
September 14, 2023 – Steve Martin & Martin Short – Carol W.
Shout out to new usher Sylvia, who I worked with on the prom on Thursday night for Steve Martin and Martin Short. It was really busy, and she expressed frustration that she made a couple of missteps. But she was a star in my eyes. She worked like a trooper, climbing up and down the stairs, helping people to get to their seats. And she stuck with it. She's going to be a great usher. Let's encourage her!
September 13, 2023 – Ray LaMontagne – Crystal S.
Frank -ticket scanner - is always very happy and enthusiastic. Frank's energy is contagious. Also willing to share a laugh with a very cute joke.
September 11, 2023 – Volunteer Appreciation Party – Vinay T.
I am so delighted to share a special good news edition following our amazing Volunteer Appreciation Party last week at the Byham. We say it time and time again, but we are so thankful to you volunteers for going above and beyond to provide a magical guest experience and make our events so successful. We KNOW we have the best volunteer family in the world! The evening was filled with food, entertainment, prizes, ducks, bingo, and so much more!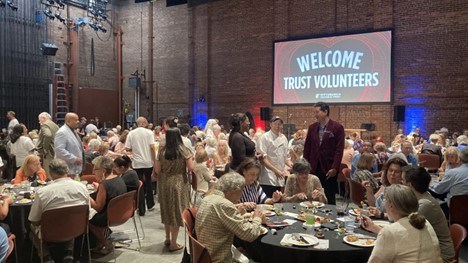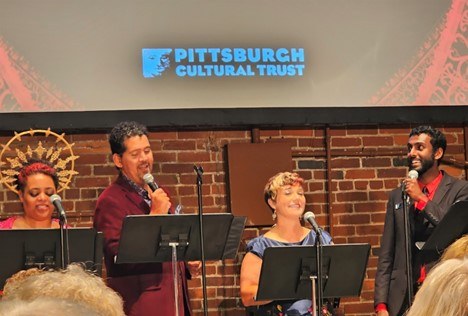 May 23, 2023 – John Mellencamp – Carol W.
Went to the John Mellencamp concert and all we got were these silly armbands! LOL, for about 5 minutes we were fill-ins in the fourth row from the stage.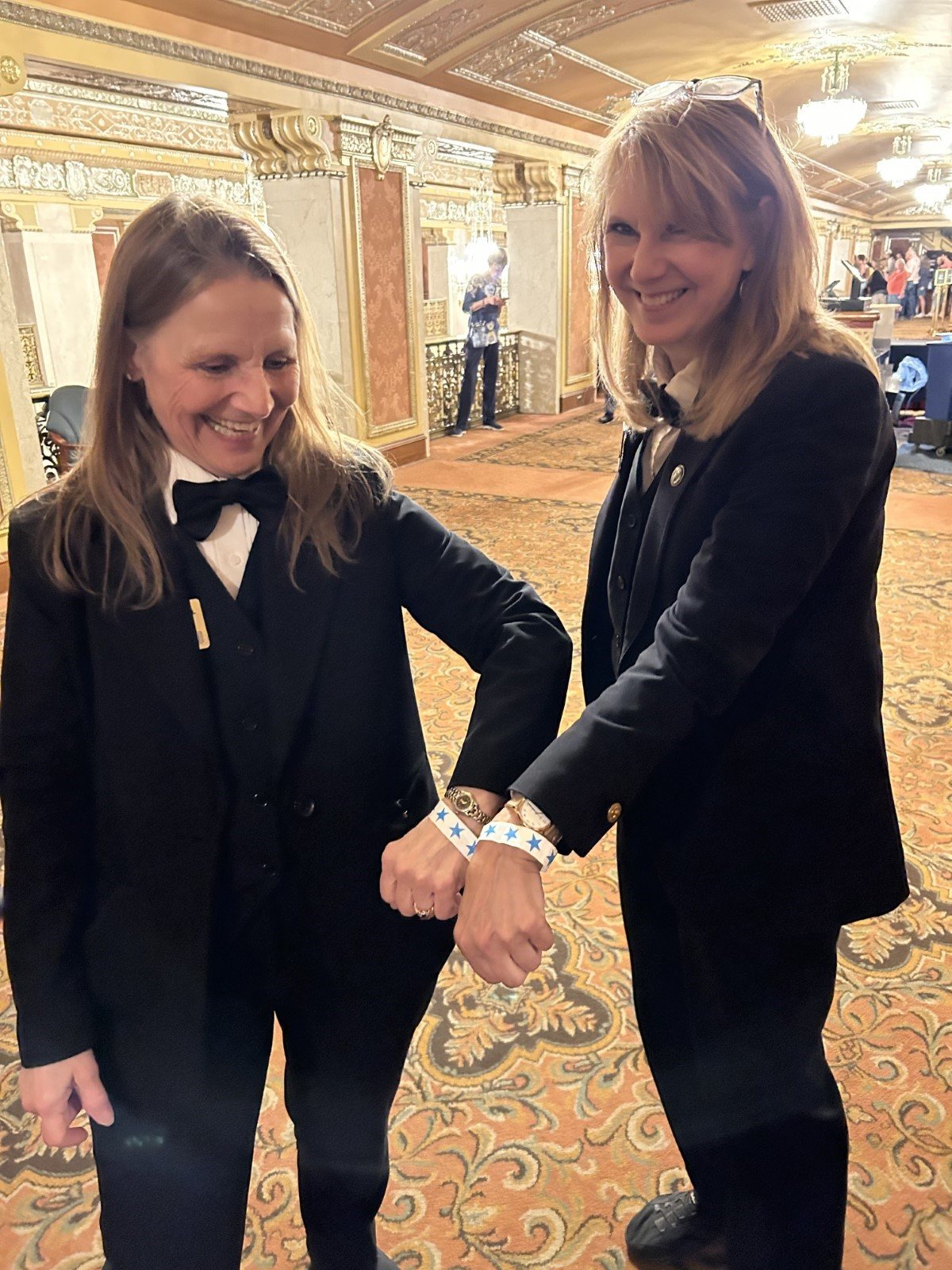 May 26 – Beyond the Stage Awards Ceremony – Vinay T.
We successfully concluded the first year of the Beyond the Stage program, which saw more than 20 CAPA students volunteer with the Pittsburgh Cultural Trust for a school year — with a final awards ceremony meeting where the students met with CEO Kendra Ingram. In total, the students committed 1456.583 hours as volunteers. That averages out to approximately 60 hours per student in just 8 months (Sept 2022 – May 2023). Students volunteered for over 60 different events at the Benedum, Byham, Liberty Magic, Art Galleries, Gallery Crawls, the Children's Theater Festival, the Three Rivers Arts Festival, the Humanities Festival, and even the UPMC Rink at PPG Place!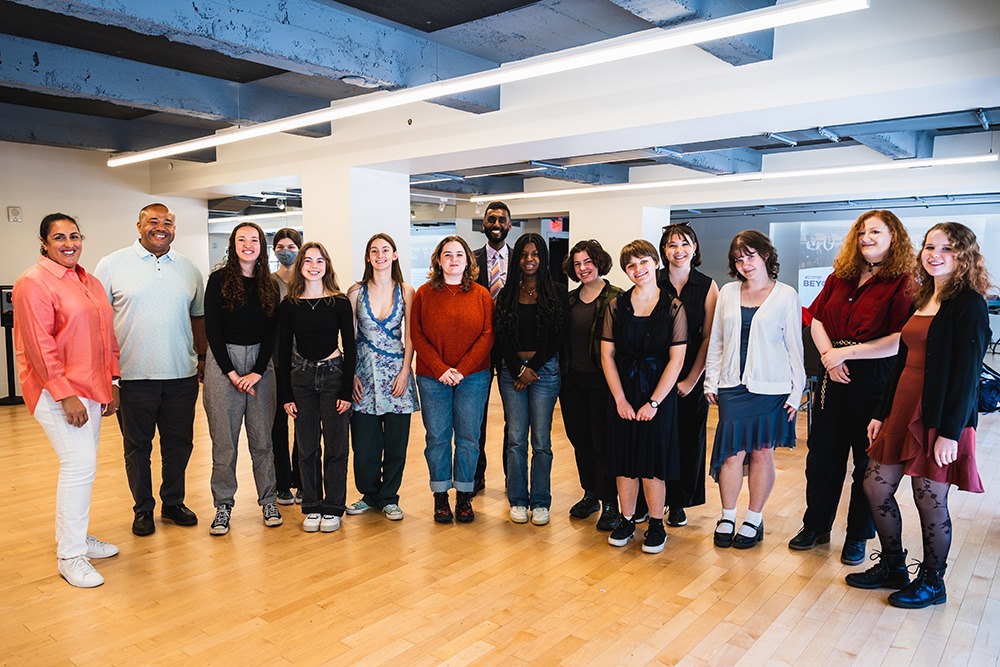 June 2, 2023 – KANSAS – Emily B.
The team tonight did a really great job with the pre-show event. Everybody helping out (Diane, Rachel, Mary and Amanda) was extremely willing to roll with the punches and do whatever was needed to make the event happen.
June 3, 2023 – Pride Festival Volunteers - Jonathan F.
Just wanted to send along a huge thank you the volunteers: Kathleen, Mali, Dawn, Deb, Deb, & Dana. I leaned on them hard, it was busy, chaotic at times, and hot, and they were all smiles, helpful, and kind to all the festival goers. There's no way this booth would have been successful without them – I hope they had a good time and felt valuable, because each of them were rockstars. Special shoutout to Deb B. for her staying from start to end – so grateful to her and her generous donation of her time and energy!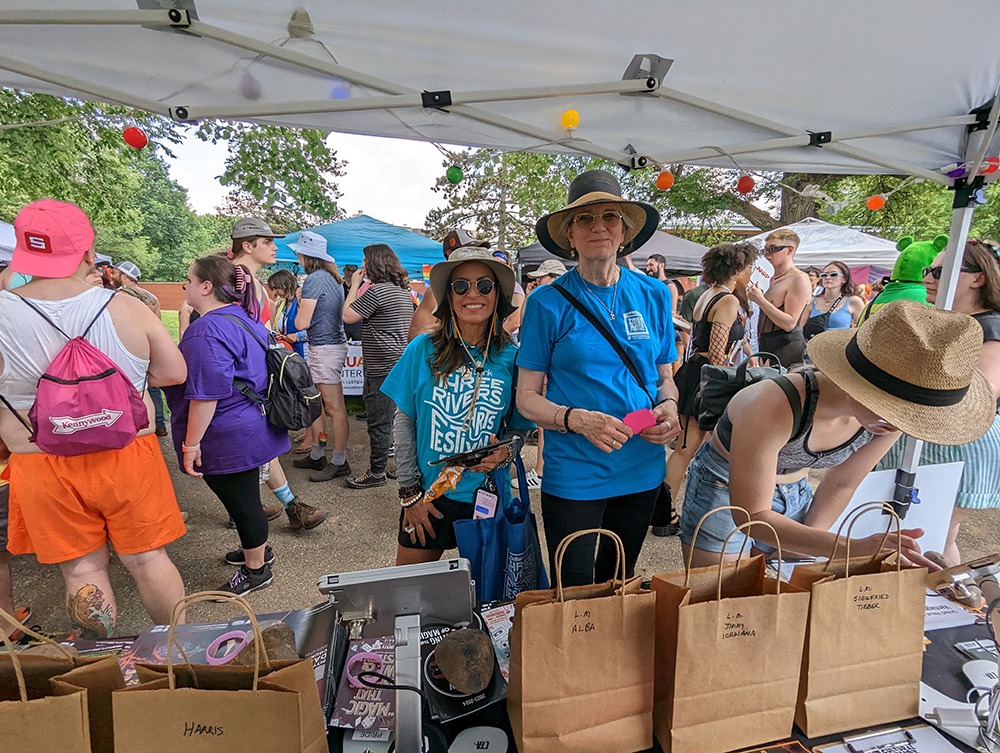 June 2-11, 2023 – Dollar Bank Three Rivers Arts Festival - Vinay T.
If I were to capture every single comment and moment I personally witnessed, along with everything you all reported to me, we'd have to publish a "TRAF Good News" book! We successfully gave away every single Dollar Bank tote bag, captured a lot of survey feedback, and so much more.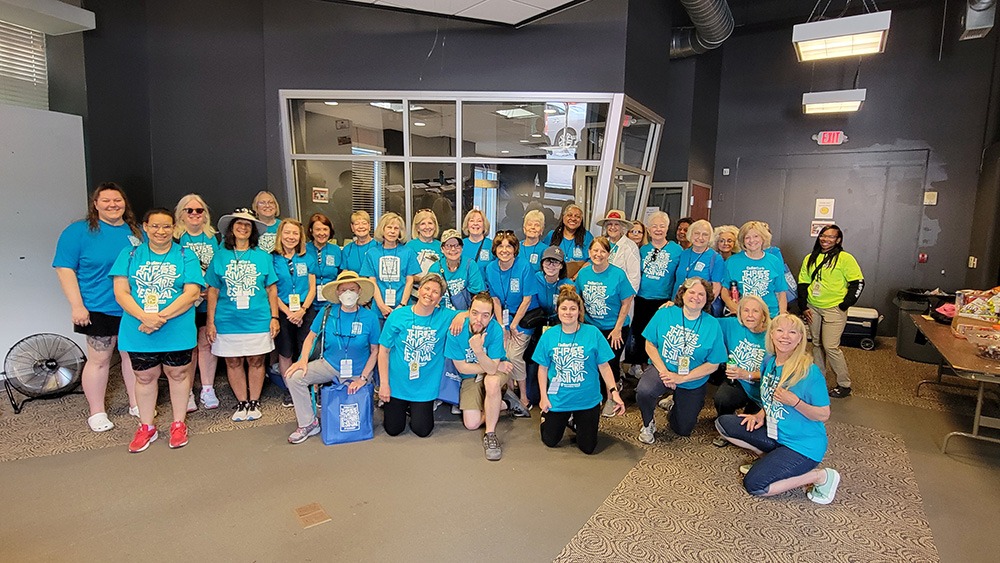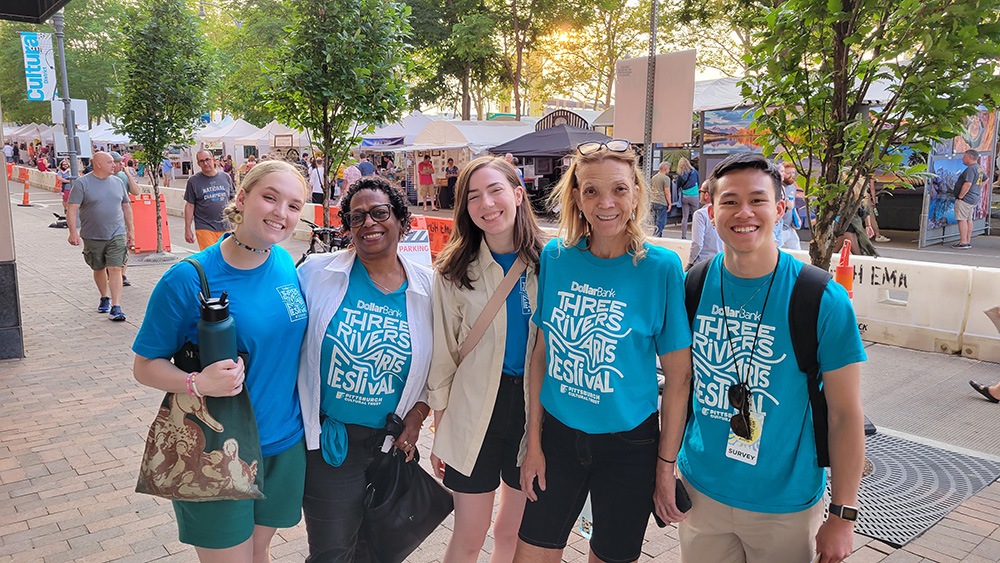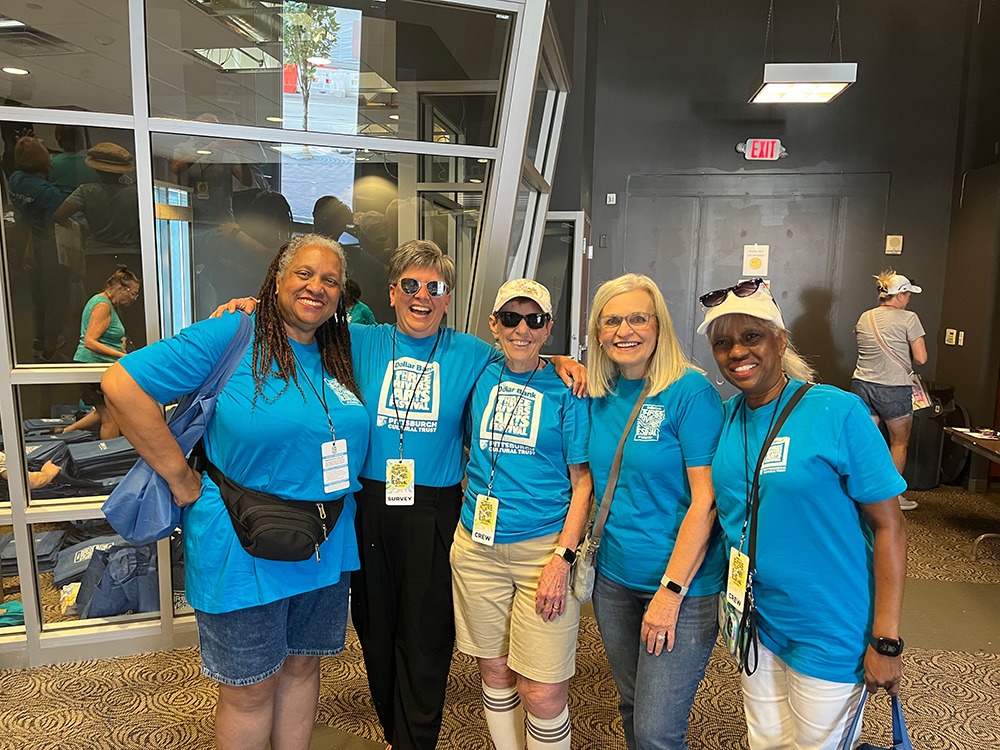 ---
Questions? Please email volunteer@trustarts.org or contact us by mail at:
Benedum Center
Attn: Volunteer Office
719 Liberty Avenue
Pittsburgh, PA 15222