Explore the Cultural District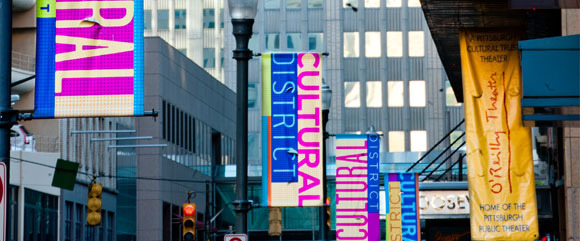 The Cultural District, a project of the Pittsburgh Cultural Trust, is the epicenter for Downtown Pittsburgh's dynamic arts and entertainment scene. Packed into a 14-square-block area — stretching from the Convention Center to Stanwix Street — are world-class theaters, engaging art galleries, inspiring public parks and art installations, renowned restaurants, and diverse retail stores.
These spaces are home to a year-round schedule full of fresh and exciting events, installations, and programming. Join millions of other visitors in discovering a multitude of choices for live entertainment, contemporary music, modern dance, visual art, and thought-provoking theater, as well as classical music, opera, ballet, popular musical theater, film, and more.
No matter the occasion — be it a family outing, romantic date night, or friend-filled excursion — the Cultural District offers something for everyone to enjoy. Overwhelmed by all the choices? Don't worry, we can help you plan the perfect Cultural District visit.
The Pittsburgh Cultural Trust isn't the only member company of the Cultural District. Other partners include the Pittsburgh Ballet Theatre, the Pittsburgh CLO, the Pittsburgh Opera, Pittsburgh Public Theater, the Pittsburgh Symphony, and the August Wilson African American Cultural Center.
The world of arts and culture doesn't end there, as the city's High School for Creative and Performing Arts also calls the District home. Other organizations that regularly use Cultural District theaters and spaces include Arcarde Comedy Theater, Bricolage, Future Tenant, and Pittsburgh Musical Theater.