Mark Strickland Trio
Skip to get tickets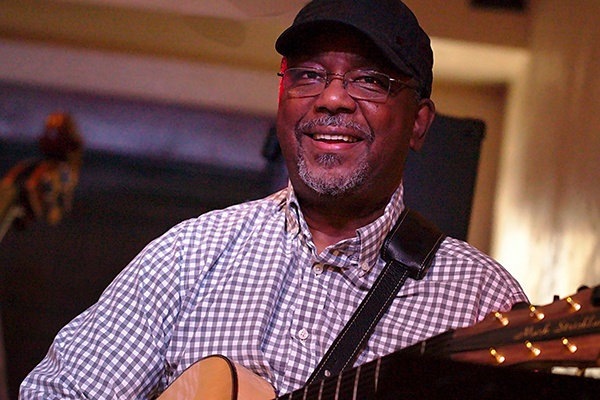 Mark Strickland Trio
Tue, May 17, 2022, 5:00pm
Pittsburgh Cultural Trust
Backstage Bar at Theater Square

Ticket Prices

Free
Mark Strickland started playing guitar around the age of 12, taking guitar lessons in Downtown Pittsburgh in the Werner Building located where the Greer Cabaret Theatre is now on Penn Avenue in the heart of Pittsburgh's Cultural District. He played in several Rock n Roll bands in the 60s and 70s. In the late 60s, after seeing and hearing some of the jazz players at the Hurricane Club and the Crawford Grill, to name of few of the places, is when he started playing jazz.
He was fortunate to eventually play with some of the great jazz musicians, such as Grady Tate, Gerald Wilson, Gene Ludwig, Pete Henderson, Roger Humphries, Spenser Bey, Rabbit Barnes, Dwayne Dolphin, and vocalists Tania Grubbs, Etta Cox, and Judi Figel, to name a few. He has played on CDs with Michele Bensen, Jessica Lee, Gene Ludwig and Eddie Manion. For the last 25 plus years he has worked in his own recording studio, producing and recording numerous upcoming and established musicians.
Although his passion is playing the guitar, after years of lessons he also enjoys playing the piano. Mark currently plays at jazz venues around Pittsburgh and the surrounding areas as well as throughout the country.
---
Updated March 29, 2022: Proof of vaccination and masking is not required for this event. This decision was made in response to low positivity levels in Allegheny County. We will continually monitor CDC, state and local health requirements and adjust as necessary. Individual touring productions may have their own health and safety requirements. Updates will be noted on individual event pages and in pre-show emails, if applicable.
Accessibility:
Note: All services may not be available at all performances. Click the link above for accessible performance schedule or contact customer service for further assistance.
Sponsored by

655 Penn Ave.




Pittsburgh

PA

15222

Box office phone: 412-456-6666