Benedum Center History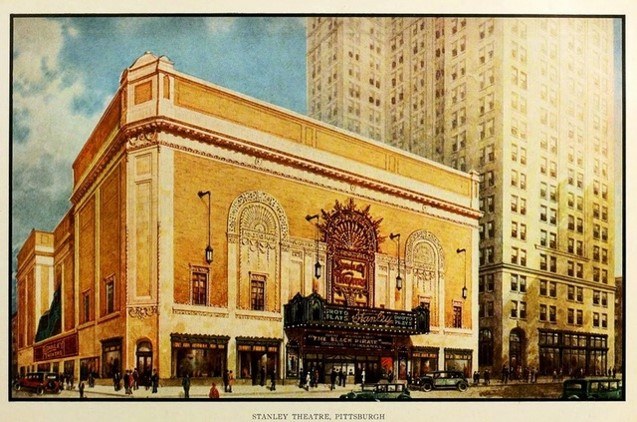 Known today as the Benedum Center, the facility opened as the Stanley Theater on February 27, 1928. James Bly Clark, an early theater tycoon who assisted in the founding of Metro-Goldwyn-Mayer, financed the $3 million dollar project. The Stanley was billed as "Pittsburgh's Palace of Amusement." In attendance on opening night were Governor John S. Fisher, Mayor Charles H. Kline and Adolph Zukor, president of Paramount Studios. Regular admission cost 65 cents—25 cents if you came before noon—and performances provided a welcome lift of spirits during the Great Depression. The theater was purchased and remodeled by the Cinemette Corporation in 1976. In 1977, DiCesare Engler Productions bought the Stanley and presented rock and roll concerts through 1982.
Following the renovation of the Loew's Penn Theater to Heinz Hall, the late H.J. Heinz II focused his attention on the historic restoration of the Stanley Theater. This became the Pittsburgh Cultural Trust's first project after its founding in 1984. The $43 million dollar restoration faithfully restored this cultural treasure to its 1928 opening night glory. By following the very strict restoration standards set by the U.S. Department of the Interior, the Commonwealth Bureau of Historic Preservation and the Historic Review Commission of Pennsylvania, the building is registered with the National Register of Historic Places.
Benedum Center Facts
There are over 90 crystal chandeliers, torchieres and sconces in the theater, all but one are original. The Central Brass Company located in Reading, PA refurbished them.
The Grand Lobby mirrors, marble and woodwork are all original.
At the landing on each staircase in the Grand Lobby are 18-foot high original mirrors meant to be reminiscent of the Hall of Mirrors at the Palace of Versailles.
The signature piece of the Benedum Center is the original main chandelier which weighs 4,700 pounds, is 20 feet high and 12 feet wide. It was restored in honor of the late H.J. Heinz II.
Approximately 95% of the interior of the building is plaster. It took a fifteen person crew almost a full year to complete the plaster renovations.
There are 1,500 feet of brass rail in the theater, most of which is original.
On St. Patrick's Day in 1936, the theater flooded within two feet of the balcony. Several men were trapped for three days until police arrived in a motorboat and rescued them.
The Benedum Center for the Performing Arts was named in honor of the Claude Worthington Benedum Foundation, which made the largest contribution toward the restoration of the theater.
The Benedum Center opened on Friday, September 25, 1987, with a show called Purely Pittsburgh. It was written by Dan Langen and produced by Mandy Levine. The show featured composers from Pittsburgh and performers with a Pittsburgh connection.
In 1928, the Stanley cost $3 million to build. In 1987, the Benedum Center cost $43 million to restore.